RCC DOOR FRAME INDIA
It was some 30 years back Central Building Research Institute, Roorkee and National Building Organization, New Delhi (both Govt Of India research organization) were engaged in developing Door 7 Window Frames of a versatile building material other than wood Govt of India has always encouraged use of substitute building material for wood in order to save forest wealth & environment

For windows rolled steel section, pressed steel sheet sections, aluminum section & lastly fiber glass Material were found to be the best alternatives. However for doors, RCC Door Frames were found to be the best & last option The ease ofcasting in three pieces, usage of quality moulds to obtain precise dimensional accuracy & super smooth surface revealed that conventional wooden door frames can be conveniently replaced by precast RCC Door Frames.

Studies & researches finally recognization the suitability ofRCC Door Frames. Which compelled Bureau ofIndian Standard to formulate Standard specification o fRCC Door & Window Frames (IS : 6523 of 1983)

The item ofRCC Door Frames have been include since long in the schedule ofRates and Specification ofCPWD, PWD (Maharashtra), other state PWD, MES, HUDCO, CIDCO, Indian Railways, MHADA, Housing Boards of Maharashtra & other States, PSU & other Semi Govt. Department etc.
Specialized Services
The Wonders of Virgin Block
Each ADARSH RCC DOOR FRAME is provide with a perfixed virgin block made of high quality dense plastic. Virign block are provided at specific places in all the 3 piecies to facilitate easy and fast fixing of hinges and other fixtures.
The virgin block is prefixed with the reinforcement bar.
Virgin block are provided on both the sections for fixing hinges and other fixture.
It has a holding capacity of 150 Kg.
Provided for fixing a tower bolt too.
MOUNTING OF HINGES
»   Avoid use of hammers for fixing hinges.
»   Make holes on the wonder block using an undersize drill bit.
»   Drive in the screw using a screw driver.
»   The wonder block has self threading capacity.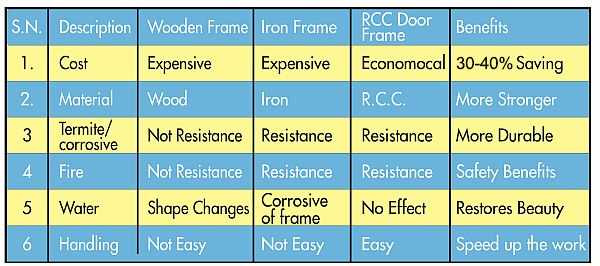 The section of the frame members and overall sizes mentioned above are most commonly specified and used everywhere. These are readily available. However we can also supply special section and sizes of door frames for bulk orders.
The first and foremost haracteristic of RCC Door Frames is that they are strong & durable. Unlike wooden & steel frames, RCC Door Frames remain unaffected by termite, rusting, decaying & deteriorations even when it comes in constant contact with water. RCC Door Frames are found to be the most suitable frames for all weather conditions. RCC door frames excellent and suitable for luxurious apartment, villas and the low budget homes as well. RCC Door Frames are eco friendly, durable and long lasting that also maintains the traditional elegant and attractive appearance intact.
RCC DOOR FRAME - The concrete option for Today and Tomorrow-Ensures strength, quality and environmental factors. We could talk about the excellent finish but the need ofthe day is to have building product that accelerate the speed ofthe construction without compromising on strength, quality and environmental factors.

R.C.C DOOR Frames are elegant, smooth, easy to assemble, easy to paint and offer simple yet reliable arrangement for mounting hinges, fixtures and shutters. In fact, R.C.C DOOR. Frames have provided a durable economical and eco-friendly altemative for the building industries

R.C.C. DOOR FRAME INDIA Is a name associated with RCC Door Frames required by the building industry. Frames are well researched and designed to provide maximum value for your money. A carefiil thought has gone into making it the best option available, by all means.